C-Power technologies AB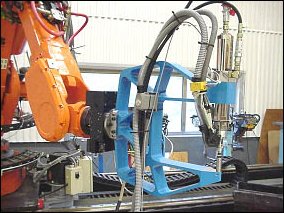 Today's traditional C-frames are heavy and good riveting quality is limited to a very small area in the mouth of the frame. ACF technology offers an outstanding new opportunity to increase joining quality and productivity.
The weight reduction is 40-50% compared to conventional C-frame. Combined with superior riveting properties throughout the full mouth, this makes the ACF an ideal tool for joining operations in any automated industry.
C-Power is a full range supplier of different sizes and models of C-frames used for self-piercing riveting (SPR) and clinching. C-Power is the only dedicated C-frame supplier able to offer a full program of high quality lightweight C-frames to the market.
Both SPR and clinching are competitive joining methods and the market is growing rapidly as the automotive industry introduces SPR and clinching in increasing scale.
The lightweight aligned C-frame (ACF) increases mobility and productivity and is well suited for automated processes. The ACF is designed to work in all orientations. When large frames are required the ACF is the only true alternative.